Take the "What's New In Italy" tour
Starting form the July 2023 edition, your What's New In Italy magazine comes with a Google Earth tour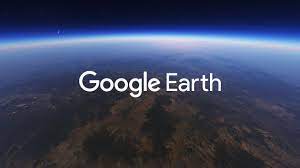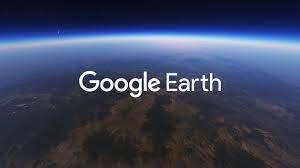 Travel Italy with us
We have some exciting news to share with our valued subscribers. Starting this month, we are introducing an initiative that will transform your reading experience of the "What's New In Italy" newsletter. We are proud to announce that all the fascinating places discussed in our stories will now be accompanied by hyperlinks to Google Earth. This addition will allow you to embark on an immersive virtual journey and explore the beautiful and interesting locations mentioned in our articles.
Unveiling a New Dimension of Exploration
It has long been our aim here at "What's New In Italy" to provide you with the most immersive experience of the enchanting sights and rich cultural heritage of Italy. With the inclusion of Google Earth links, we aim to bridge the gap between the words on a page and the vivid experiences of visiting these remarkable places. Now, by simply clicking on the underlined placenames, you will be transported to Google Earth, where the wonders of Italy await your virtual exploration.
Immersive Experience and In-Depth Information
Google Earth provides a remarkable platform that allows you to view Italy's picturesque landscapes, charming towns, historical sites, and breathtaking landmarks with stunning realism. As you navigate through the 3D interactive environment, you'll gain a sense of the local atmosphere and the unique character of each place.
But that's not all! In addition to the individual hyperlinks, we will create a dedicated Google Earth project for each edition that brings together all the locations featured in our newsletter articles. This project acts as a virtual guide, providing you with the convenience of visiting multiple places from one central location. You can explore these destinations at your own pace, experiencing a curated journey through the wonders of Italy.
Using the Hyperlinks and Google Earth Project
Accessing these experiences is simple. Just follow these simple instructions:
Reading the Articles: As you read our articles within the pdf file, keep an eye out for underlined placenames within the text. These underlined names indicate hyperlinks that, when clicked, will transport you to Google Earth in your web browser. (NOTE: If you do not see underlined text consider using another pdf reader - some browsers do not render the underlines for web links. We recommend the free Acrobat Reader.)

Exploring with Google Earth: When you encounter an underlined placename, simply click on it to launch Google Earth. Once in Google Earth, you can explore the location using the intuitive controls. Use your mouse or touchpad to navigate, zoom in or out, and rotate the view to get a complete understanding of the place. You can even use Street View where available to take a stroll through the local streets.

The Google Earth Project: To access the dedicated Google Earth project for each issue, simply click on the link on the edition's download page. This link will take you to a page where you can find a collection of all the places featured in that month's articles. Double-click on any destination of your choice, and Google Earth will transport you there instantly.
We are thrilled to introduce this new initiative that enhances your reading experience and offers an immersive exploration of Italy's wonders. With the inclusion of Google Earth links and the convenient Google Earth project, you can dive deep into the vibrant Italian culture, history, and landscapes from the comfort of your own home. So, sit back, relax, and let the captivating beauty of Italy unfold before your eyes.
Happy exploring!
The "What's New In Italy" Team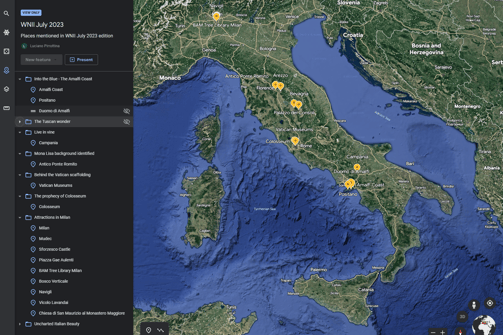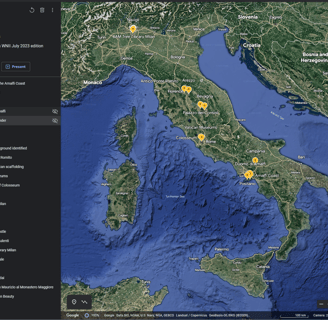 Our Google Earth tour screen